My Village Scribe has invested in a new office space in Nairobi South with the aim of establishing their presence and meeting the growing demand for their freelance writing and SEO services across the world.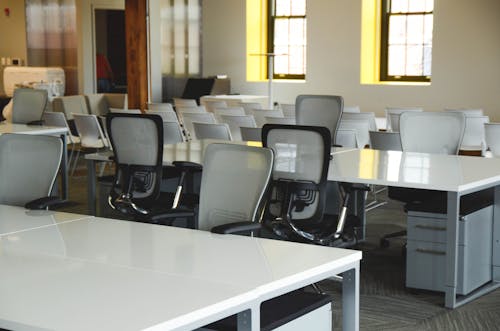 With close to a decade in the writing business, the owner, Hudson Mukanzi saw that the time was ripe to leverage on the positive reception businesses have for his services. He was extremely excited to take this step because according to him, for a long time now, he was in need of bigger office space to cater to the demands of his growing market base.

"I could not find an office space big enough in Nairobi. The potential ones were way too expensive and needed a lot of work to meet my standards," Said Hudson.

The company has been growing its market and needs to supply all the exports, "Which is difficult with barely enough space to do the work we do here," he added.

My Village Scribe serves clients from European nations, India, and the United States. However, he also has the interest to serve nations across the world making the move a great opportunity. He says that investing in this office space will not just provide a service center for our work, but will also equip it to be a major player across the world in writing services.

Value for Partners
"Our partnerships are essential in delivering our promises and meeting our goals as a business," Hudson said. "You want to be consistent and deliberate with friendships to be able to reach the international market and satisfy them" he continued.

While he is investing in a bigger and better office, he insisted that their connections still remain the same.

Hudson Mukanzi says this office space enables him to move around and assess the quality of content by fellow freelance writers.

What is This Office Like?
The vacant warehouse is turning into modern office spaces where businesses can thrive. With the realization that abundance of people needs space to carry out their commercial activities in this location, the reimagination of the abandoned warehouse as a utopian business hub for those who want to be part of the next heart of trade in Nairobi is happening.

The comprehensive refurbishing of this former warehouse is keeping the original quality fabric of the initial construction, eliminating the old paintwork, and inserting modern and sleek elements to make the office spaces accommodative and flexible. This 10,000 Square Feet property accommodates a restaurant, retail space, and offices, providing a spectacular yet very diverse working space.

"Most business spaces these days don't allow us to mingle anymore, but our new workplace has trendy (and welcome) architectural designs to make it spacious enough for businesses like ours and more." He added.

The property has great office space with improved shell space, is positioned close to the road, has a spacious parking space, and has a sprinkler system throughout the building.

Anyone planning to position their office where the action is taking place can now breath easy because this former warehouse is going to be the beehive of activity center located in town.

The Newest Signature Office Space
This property is in the heart of a forthcoming construction of the 60 acres. It will be taking place in 2019 with the effort to make it the brand new signature of Nairobi South. The demolition and construction of the first phase will happen in the first and last quarter of this year respectively, according to information from the County Government Leadership on Planning and Neighborhoods.

The estimated construction cost will take care of the park's first phase. It will include an improvement of the environment and anticipates building a gathering hall, shelters, a lawn, and a playground for kids among others. In the future construction plan (if funding happens) the city wants to include an observation tower, wetland restoration, and nature experience.

The funding of this multi-million project is underway with the city contributing significantly, and fundraising efforts raising even more. In addition, the city is expecting more revenue from the property it owns.

This place is going to be a beehive of liveliness after it's done. For businesses like My Village Scribe, it is a great opportunity to increase their production for the overseas market and welcome the locals to make business in this place.

"Since our move in this place, things have started looking up for us and we can now focus on delivering high-quality pieces to our customers around the world. Most importantly, we are also concentrating on increasing brand awareness and expanding into new territories." Said Hudson.
SEO and Writing Services
SEO and writing services don't have to be expensive. Yet, they are very important, without them, you won't be able to reach your online audience.
My Village Scribe meets all your SEO and writing needs with as low as $100. Connect with us so we can kickstart your online conversion journey right away.